Up & Back will be held on August 19-20, 2023
This unique challenge is for anyone and will test your skills as an athlete, captain, endurance, skills, ability to withstand Texas heat, Llano River obstacles and nature. The beautiful, clean water with flowing currents to challenge you going up the river will also be sastifying as you paddle back down the South Llano River. Cash and other prizes will be awarded to participants completing the event.
Make your lodging reservations to rest up before AND after this event.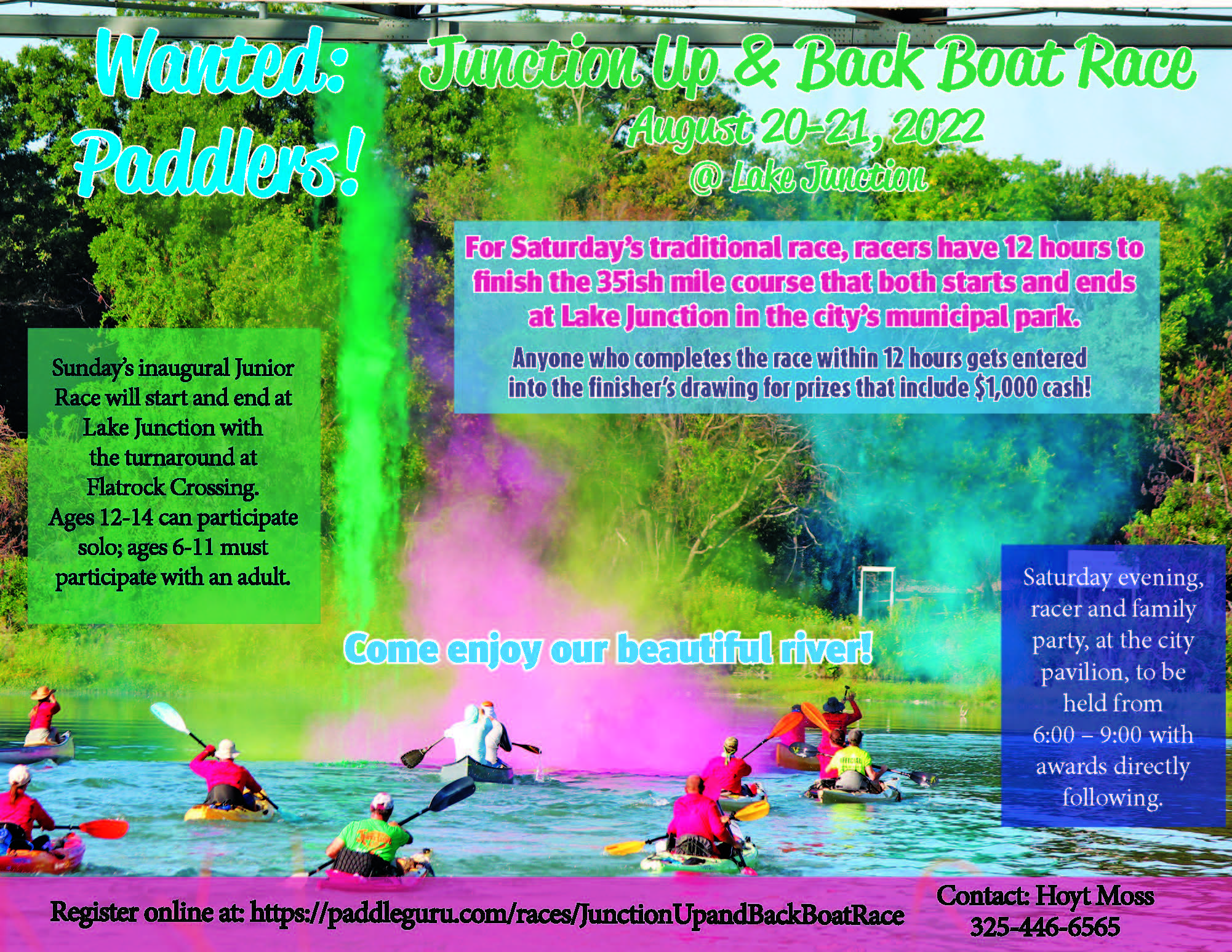 You may contact Hoytt Moss at 325-446-6565 if other arrangements need to be made. The race begins at the Junction City Park South Llano River Dam.... Competitors will boat up the South Llano River to the "First Crossing" turn around and boat back to the dam. The river route is approximately a total of 30 miles.
Those who complete the event will be able to place their name in the drawing for a cash prize. You do not have to finish first, just finish the race in a reasonable amount of time in order to be eligible for the cash drawing.
Entry Fee is $25 per person.
Make checks payable to UP & BACK Boat Race.
UP & BACK
730 Main Street
Junction, Texas 76849
325-446-6565 (Hoyt Moss)
325-446-3190 Chamber Office
September 2, 2017 was the first kayak/canoe open boat race hosted on the South Llano River. Inspired by kayaking enthusiasts and participants of the Texas Water Safari events, approximately 17 athletes participated in the event. Every participant made the trip to the turn-around bell at the First Crossing. Although not every boat completed the trip back down river - the hardest portion of the race was paddling up the South Llano River through rapids and rocks. The event was a huge success and will be held again year.
Race 2019:
1st - Will Leeds 8:44
2nd - Hoyt Moss & Jay Jackson 9:19
3rd - Gaston Jones & Heather Epstein 9:39
4th - Michael Vandever & Tim Curry
5th - Dyllon Sanford
6th - Mandy Bunting & Alex Taylor
7th - Layne Townsend
8th - CandaceMorrison
9th - Tarek Aly
10th Duke Young
D. J. Cagle & Bob Chapman
Race 2017:
16 competitors, 12 watercraft: 8 solo and 4 tandem. EVERY participant made it all the way UP to the first crossing to ring the bell! Several athletes chose to stop their race at that point considering the time needed to paddle back down river.A few other participants got out after going BACK down to the South Llano River State Park and one other finished at Flat Rock.The racers who did complete the adventure in its entirety withtin the 12 hour time-frame were:
1st Place - Ian Rolls of Dripping Springs with a time of 6 hours 59 minutes
2nd Place - Kipp Nickelson and Cody Hale of Junction with a time of 9 hours and 48 minutes
3rd Place - Hoyt Moss of Junction and Mark Hellinger of Wimberley with a time of 10 hours and 4 minutes
4th Place - Jay Murr of Cleo
5th Place - Paul Black of Martindale
Cash prize was $1000 with other prizes given in a drawing.