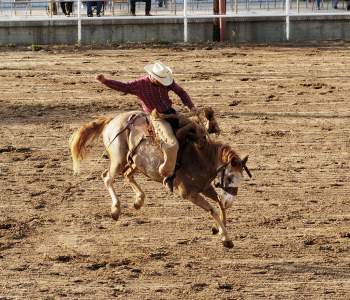 Held Annually on the 2nd weekend in August
DANCE PERFOMANCES 2023:
Friday, August 11, 2023 - The Rocky King Band
Saturday, August 12, 2023 - Bob Wills' Texas Playboys (Under the Direction of Jason Roberts)

HCFA will have musical performances after the rodeo each night.
The HCFA is presenting the Summer Classic CPRA Rodeo produced by Cadillac Rodeo Company. Rodeo added money will be $10,000.The performances will begin each night at 7:00 p.m., with the gates opening at 6:00 p.m.
Dancing under the stars on Friday & Saturday nights at the pavilion above the rodeo grounds.
Cadillac Rodeo Company is the stock contractor for the rodeo performances.
Admission to the rodeo is $10 for adults and $6 for kids.
Admission to the dances is $10 for adults and $6 for kids.
For more information, please call Nathan Tonne @ 254-212-9160.
Dancing at Hill Country Fair Association's open air dance pavilion Hill Country Fairgrounds on FM 2169 in Junction, Texas 76849.
Parade is held each year on Saturday morning at 10am. Starting at 4th and Main Street. For more information, Contact the Chamber of Commerce at 325-446-3190 or [email protected]