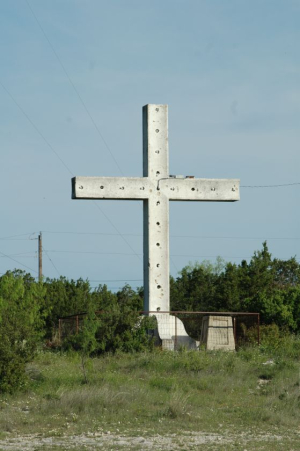 Familiar to the Texas Hill Country is the sweet scent of Agarita blooms in early spring and as Governor Coke Stevenson read the first of a 60 year traditional bible lesson, whiffs of the blooms filled the air. On the picturesque hillside beneath the bluff known as Lover's Leap, local thespians gather to present the reenactment of the crucifixion and resurrection of Christ. As the sun sets in the Western sky, amber, reddish color is cast against the limestone bluff upon which the American Flag stands atop and blows gently in the breeze signifies to the actors to take their places; as the curtain is raised at dark. The outdoor theatre has been created in its natural state utilizing the hill's stage and includes live performances by local actors and includes appearances by local animals. Seating is provided by coming early and parking your vehicle along the foot of the hill. Many visitors car pool in order to use one vehicle to "mark their seat" and another to get about the rural town of Junction, Texas and take advantage of the time to visit unique shops, dine, and walk along the river bank prior to the Easter Pageant.
Over the 70 plus years of production by volunteers alone, the pageant has not ever been canceled, the show goes on regardless of weather conditions. According to Larry Trimble, current director, and who has been involved in this event for 20 years stated that the pageant has been performed in record rainfall, sleet, snow, and heat. The grounds have been improved with electricity for microphones and spotlights, which lends to the dramatic enhancement of the story. Brilliant, vibrant, costumes have been designed and donated to assist in making this extraordinary presentation more memorable to the viewers. The three crosses and rock tomb have been a part of the production for the majority of the Pageant's performances. The locals practice from early March until dress rehearsal, donating countless hours to the event, for which there is not an admission fee. According to Mr. Trimble, the beginnings of the Men's Bible Class, who sponsors the Easter Pageant, came about in 1948 by an individual who, by observation, realized that World War II veterans needed an organization where they could fit in; he invited the local vets to get together for a bible study outside of the formalities of a "church" setting, forming the Class that is still active. Coke Stevenson, who is a Hill Country/Kimble County native and served as Governor of Texas from 1941-1947 taught the first of the organization's outdoor class, sparking the idea to create the Easter Pageant.
Come for the weekend or for the event, the Pageant begins at dark.